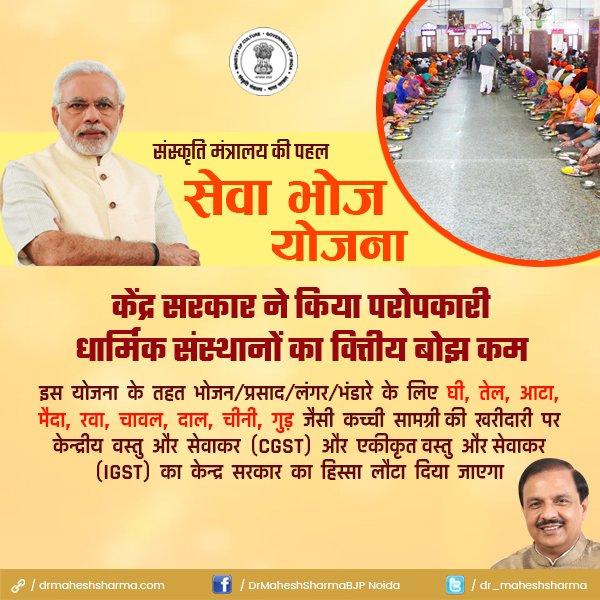 The Central Government Recently Launched a new Scheme named as Seva Bhoj Yojna
| | |
| --- | --- |
| Name of Scheme | Seva Bhoj Yojna |
| Launched Date | 2 August 2018 |
| Ministry Related with this Scheme | Ministry of Culture |
| Total Outlay | Rs. 325.00 Crores [2018-19 and 2019-20] |
| Minister of State (I/C) | Mahesh Sharma |
Objective of this Schme:
To reimburse the CGST and IGST to Religious / Charitable Institutions who provide Food free of cost without any discrimination to Public/Devotees.
Eligibility:
Institutions such as Temples, Gurudwara, Mosque, Church, Dharmik Ashram, Dargah, Matth, Monasteries etc. existing for at least Three years before applying for financial assistance/grant.
Those who serve free food to at least 5000 people in a month.
Institutions coming under: section 10 (23BBA) of the Income Tax Act, 1961, 12AA of the Income Tax Act, 1961, section 8 of the Companies Act, 2013 or section 25 of the Companies Act, 1956, Societies Registration Act, 1860.
How it will work
:
Religious / Charitable Institution shall first register with Darpan Portal of NITI Aayog and get Unique ID.
Then the institution shall enroll itself in CSMS Portal (http://csms.nic.in/login/sevabhoj.php ) on the Ministry of Culture's website.
Then they shall apply "online" in the prescribed application form and upload required documents as listed below in CSMS Portal of Ministry of Culture's website( www.indiaculture.nic.in)