Current Affairs April 2013,Current Affairs April,PSC Current Affairs April 2013,PSC Current Affairs ,UPSC Current Affairs,bank exam Current Affairs,IBPS Current Affairs,RRB Current Affairs,Current Affairs 2013 for All Competitive Exams, Current affairs Quiz April 2013 , PSC ,Current Affairs for SSC,Current Affairs for UPSC , Current Affairs for Civil Services ,Current Affairs for IBPS , Current Affairs for SBI , Current Affairs for Bank PO , Current Affairs for RRB Exams
Current Affairs 2013 for All Competitive Exams
|
Current affairs Quiz April 2013
|
PSC
|
SSC
|
UPSC
|
Current Affairs for Civil Services
|
Current Affairs for IBPS
|
SBI
|
Bank PO
|
RRB Exams
1. As per the recently released Government data, which state has the highest percentage households availing of banking service?
Answer :- Himachal Pradesh
2. Who has appointed as the president of International Chamber of Commerce(ICC) India?
Answer :- Rajan Bharati Mittal
3. New STAR(Strategic Arms Reduction Treaty) is signed between which countries?
Answer :- USA and Russia
-->
4. At which location, India's first all women Post Office was recently inaugurated ?
Answer :- New Delhi
5. Which was the them for 'International Women's Day 2013'?
Answer :- 'A Promise is a promise: Time for action to end violence against women'
-->
6. With which European country did India sign the Tax Information Exchange Agreement(TIEA) on March ?
Answer :- Liechtenstein on 28th March 2013 [A central European Country]
7. Babili Project situated in which state ?
Answer :- Maharastra
8.Which state won the Mushtaq Ali Twenty-20 Champianship Title?
Answer :- Gujarath
9. Who won the 67th Santosh Trophy tournament in March 2013?
Answer :- Services
-->
10. Who is famous for 'Hole in the Wall' experiment?
Answer :- Sugata Mitra
11. The Spraty Island, which are under dispute are located at which sea?
Answer :- South China Sea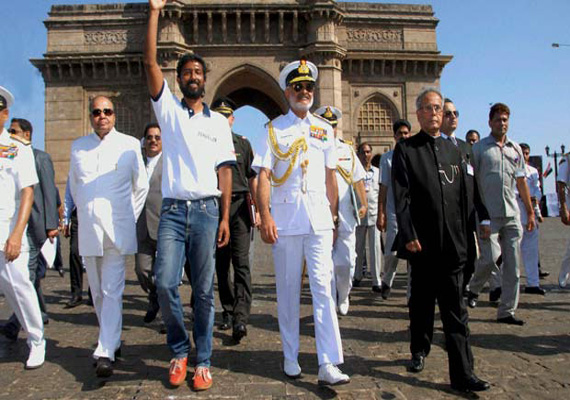 Lt Cdr Abhilash Tomy was welcomed at the Gateway of India by President Pranab Mukherjee
12. Who has created history by becoming the first Indian on solo non stop trip across the world in a sail boat ?
Answer :- Abhilash Tomy
13. The opening ceremony of the 2013 Indian Premier League was held at ?
Answer :- Kolkata
14. India started Visa on Arrival facility for the senior citizens of which country?
15. World Health Day was observed on ?
-->